Our Priority is Care, Comfort and Happiness and providing complete Peace of Mind
We aim to provide care for elderly residents who no can no longer live independently at home or who choose not to live alone, but do not need nursing care. Sometimes getting older and living alone in your own home can be lonely and difficult, but here at Coombe House, Streatley, we provide a homely, secure and relaxed environment in lovely tranquil surroundings.
We maintain the highest standards of care based on the individual needs of residents. Although the majority of residential places at our care home are permanent we can offer shorter term holiday and respite care when we have an available room so please contact us to check availability.

We benefit from having close links with the local Streatley and Goring communities and being able to access these two lively villages where they provide many facilities and activities. Located on the West Berkshire / Oxfordshire border there are nearby bus stops and a railway station with trains to Reading, Newbury, London and Oxford. The M4 is 15 minutes by car making it convenient for relatives and friends to visit.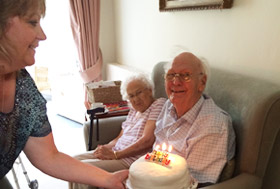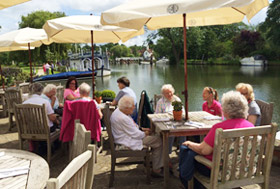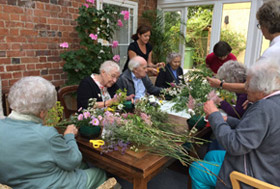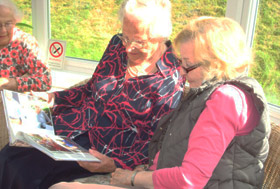 A few comments from relatives...
It is immediately obvious to us that all the staff at Coombe House care deeply about their residents. They were endlessly positive and thoughtful, finding out what my mother enjoyed and arranging special trips for her. In addition, they not only helped her with the basic of care but also with things like the TV and skype when they became to complicated for her. As she became increasingly anxious and confused it was a huge relief to all of us that she was able to end her days in the comfort of familiar surroundings rather than in hospital. We could not recommend The Coombe House highly enough.

- Susanne W (Daughter of resident)
The home is run very much as a family environment and has a wonderful atmosphere. Visitors are welcome at anytime and always offered refreshments and if required an update on the resident's well being. The staff are always professional but also how great affection for the residents. An excellent home from home.

- Philippa T (Daughter of resident)
The care provided for my mother was excellent. They combine high standards and expectations of themselves with a genuine desire to provide a caring, secure, balanced community spirit. Residents are genuinely treated with dignity and respect.

- Amanda A (Daughter of resident)
Coombe house has provided my mother with a happy, safe, and homely environment. The home has a very relaxed atmosphere with very friendly and able staff. Coombe House is family run and feels that way. Marion and Suzanne are always around to chat to and catch up with how mum is doing. This is the best decision we made with mum (and she wholeheartedly agrees!).

- Morag W (Daughter of resident)
The staff are highly professional, their dealings with residents are caring and kind. The food is excellent and nothing is too much trouble. Activities are organised and frequent, and consultations with both residents and relatives are held several times a year and actioned. I cannot rate them too highly, from the owners to the cleaners etc - all are cheerful and welcoming. The place smells clean and none of the usual odours are there!

- Ann Briggs (Daughter of resident)
Our mother went to live at The Coombe House in January 2011, not in the best of health, and was looked after by their wonderful staff with great care and affection, living to the grand age of 101 and passing away in September 2013 peacefully in her own bed, and with friends around her. We cannot praise the home too highly, they provided a lovely 'home from home' with comfortable surroundings, good food, and company always at hand. They were unfailingly helpful and welcoming to her frequent visitors and we always felt that we were part of the extended family in the warm atmosphere they provided.

- Pamela M (Daughter of resident, now deceased)



More testimonials from residents and relatives can be seen here.